Cisco announces CCNP v2
Yesterday Cisco announced that they are updating the three exams that make up the CCNP for Routing and Switching. It shouldn't come as a major surprise to anyone that follows Cisco certifications. Over the last couple of years Cisco has rolled out updates to the CCNA and CCIE Routing and switching certifications. Just as they have done with those tracks, we have been given six months to prepare. During this transitional period Cisco is offering the ability to take either version one or two of the CCNP exams. You can still take version one of the exams until January 30, 2015, but after that your only choice will be to take version two. You can also mix and match version one and two exams to attain the CCNP Routing and Switching certification. The prerequisites remain the same, you must have either a valid CCNA Routing and Switching or any CCIE certification.  If you want the full requirements of the version 2 CCNP exam, the Cisco Learning Network provides a course Syllabus.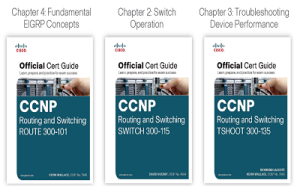 Also, Cisco Press has announced that they will have books and videos available later this year for your self training. You can visit the Cisco Press CCNP site to see what the upcoming offerings are, as well as download sample chapters.