Cisco Live 2014 Recap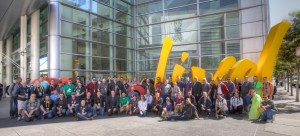 Another Cisco Live has come and gone and I can't help but say that every year seems better than the last. This year was the 25th anniversary of Cisco Live and for that occasion they returned to San Francisco's Moscone Center. While this was my fifth Cisco Live it was my first time to experience it in San Fran. So let's start there with the good and the bad. On the good side, it is San Francisco and that means plenty of sightseeing, nice weather for the time of year and lots of great food to choose from. In the bad category, is the fact that San Francisco can be very expensive, especially if your company is keeping your expense account on a tight leash. Also, even though the Moscone center is a wonderful venue, I'm afraid that Cisco Live has outgrown it. The meeting halls where sessions were held felt they were bursting at the seams. Also the fact that sessions and presentations were spread across multiple buildings that required crossing street level traffic made it not nearly as convenient as locations such as Las Vegas or San Diego. However, I would say that is a good problem to have. When I first went to Cisco Live in 2010 I was impressed with the number of people there. When I look back at that now, I realize that was nothing!
So what do I like about Cisco Live?
It is Geek heaven. I dare you to find so many amazing, smart and interesting IT professionals in such a small space. Just sitting down at a table for lunch is a great experience because you never know what sort of tech conversations will take off. If you long for the chance to talk about your love for technology, you came to the right place.
Learning, Learning, Learning! There is no way you can fit all of the breakout sessions you want to attend into your schedule. There is a session for every sort of networking technology you can think of. You quickly find out that you have to be quick to get into the popular sessions and at the same time picky to get into sessions that are most important to you.
It recharges my technology enthusiasm batteries for the year. There is no way you can sit through a John Chamber's keynote and not walk away excited about the future of technology. When I leave Cisco Live I'm pumped up to bring what I have learned into my workplace as best I can. I'm filled with ideas of how we can use new and existing technology to make my and other departments at work more efficient and productive. I'm not only excited about the future, but I'm proud to be a part of making that future happen.
Social media done right. I practically never used my Twitter account until I attended my first Cisco Live. Now I've gotten to know numerous engineers from around the globe thanks to the way Cisco has jumped into the Social media pool and engages with its customers. This has helped me connect with a lot of really great networking professionals. I have never dealt with a company that puts itself out there like Cisco has in the Social media realm.
Also, this year I was honored to be chosen to be a be a part of the Cisco Champion program. This has really opened up my eyes to what Cisco is doing in the marketplace and has given me the chance to let my voice be heard and to interact with some of the best and brightest in the networking field. The Cisco Champion team really went above and beyond to make all of us feel welcome at Cisco Live and had some great events and team building sessions. Once again, just when you think Cisco Live can't get any better, it does.
So what would I say to anyone thinking of attending Cisco Live next year? I would say that you need to make sure and get it on your employer's radar now before budgets are drawn up for next year. The first year I went it was a bit hard for me to justify this to my boss. However, with all the information I came back with and my new found enthusiasm for the field in general I have never been questioned about putting it on my calendar each year after. If you want to immerse yourself in all things networking and collaborative technologies for an entire week Cisco Live is the place to be. I hope to see you there next year!